Disputes management in My DSO Manager
Identification and dispute management are key elements of
My DSO Manager
.
Indeed,
disputes
delays collection and degrades customer satisfaction.
They are also the consequences of malfunctions in the sales process.
Dispute management process
First key principle, the practice of
preventive collection
, that is to say before the due date of the invoice, which allows to be informed earlier of the existence of a dispute.
Dispute identification
Upon receipt of a dispute, by phone, email return , or through the
My DSO Manager
interactive web page, the collector assigns the appropriate "dispute" status to the concerned invoice(s) ( dispute price, litigation quality ...) and fill in detail the causes of the problem.
Dispute information through the My DSO Manager interactive web page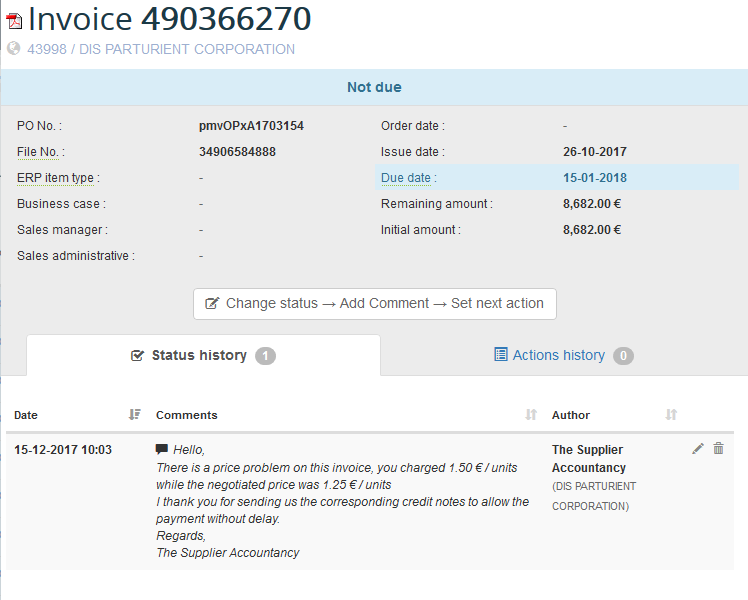 Item qualification with the appropriated status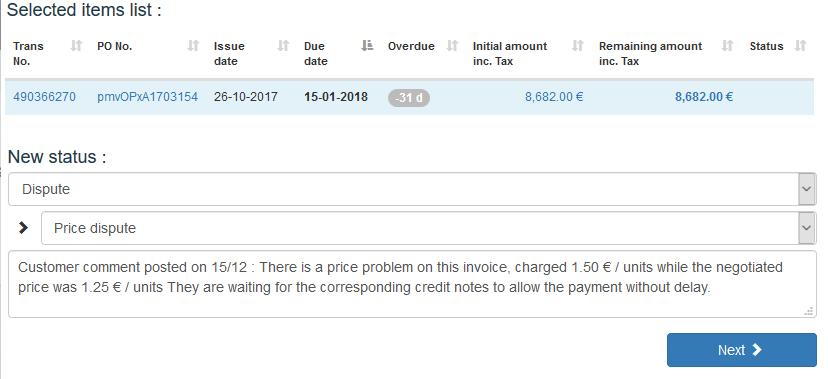 My DSO Manager
propose to send an email to the client to confirm the consideration of the dispute, or to an internal actor of your company so that he takes care of the resolution of the dispute. This resolver can have different roles depending on the dispute: commercial, sales assistant, technician ... etc.
You can choose to send an interactive internal email, so that the resolver can access the customer's account from a dedicated page, and also add a comment on the concerned invoice(s).
Internal interactive Email
Internal interactive web page
The invoice(s) are automatically excluded from the collection scenario to prevent them from being collected until the dispute is resolved. A specific dispute follow up action is then created.
Specific action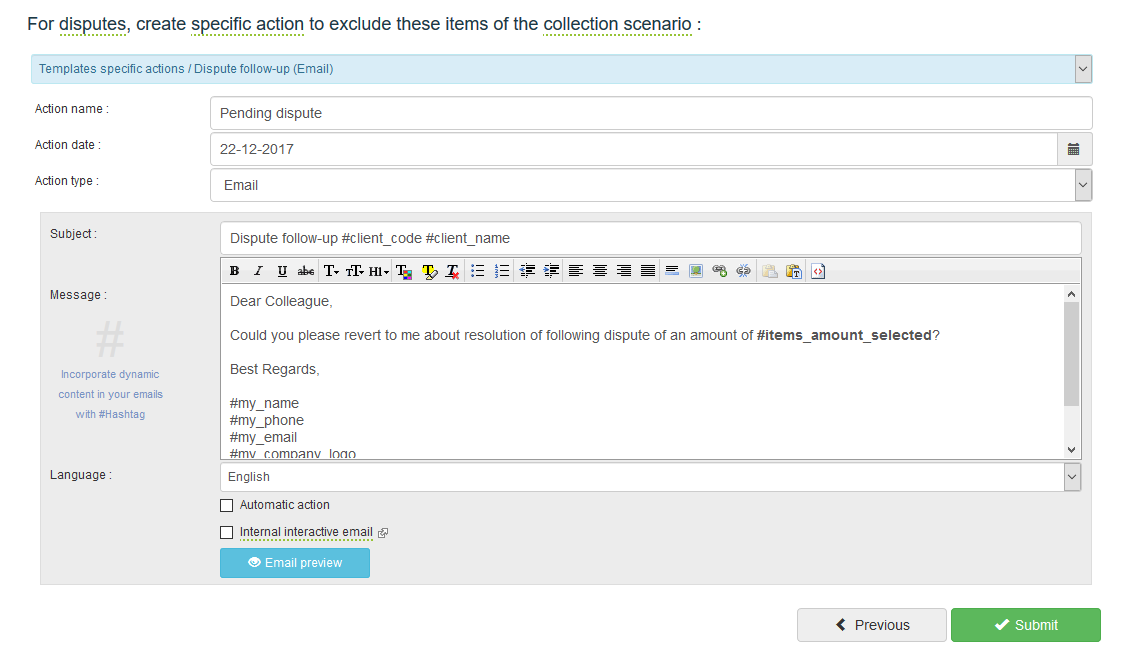 This specific action will be "live" until the dispute is resolved.
Dispute resolution
Once the dispute is resolved, the recovery officer changes the status to "Litigation Resolved". The affected invoice (s) may be restarted either by following the defined recovery scenario or by a specific action.
Status modification
Dispute management
Dispute management is conducted via the
Dispute report
.
This report identifies the main causes and the amount of outstanding receivables. It also gives the breakdown by customer (in number and amount), as well as by type of dispute, in order to understand which customers or sectors of the company are affected by these malfunctions.
Dispute report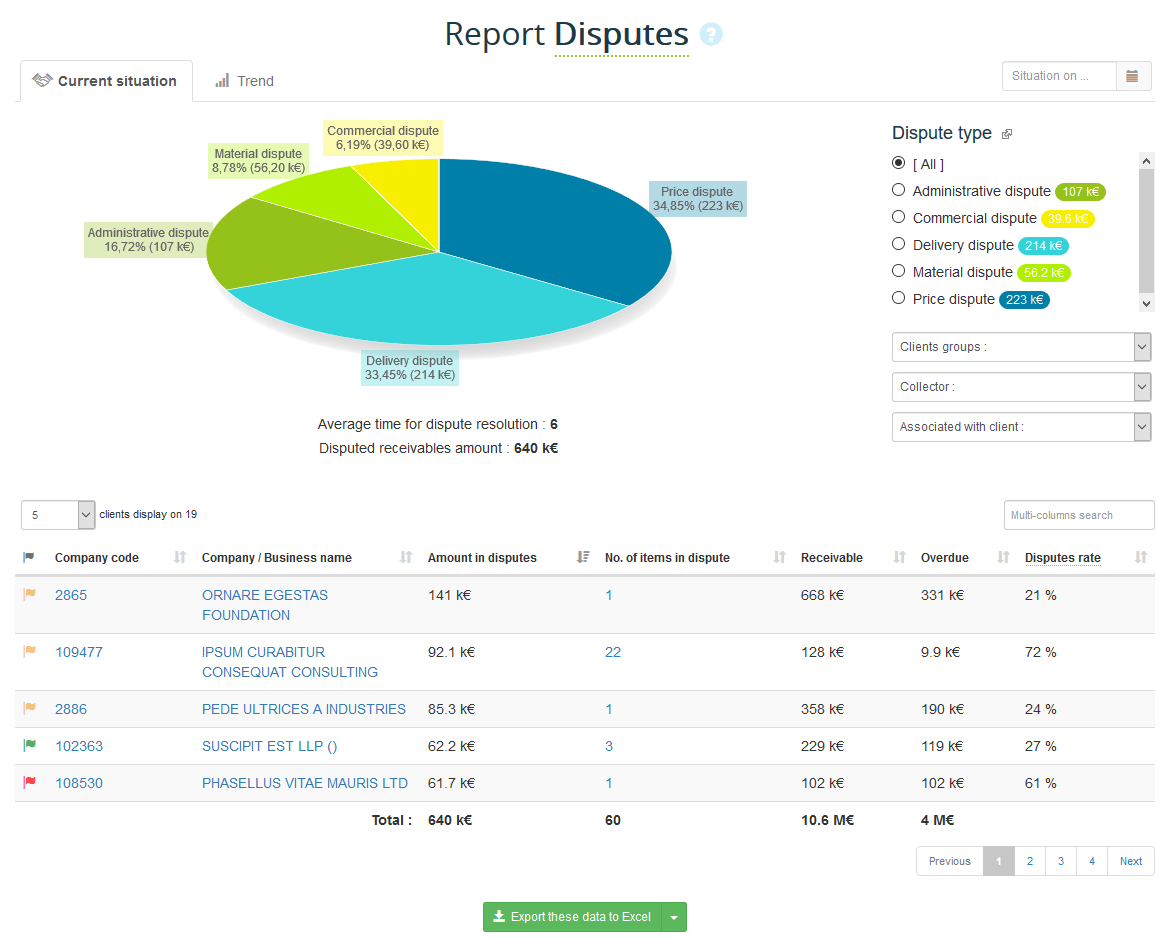 You can now:
Articles on the same topic
Subscribe
Not yet registered? The subscription allows downloading and unlimited use of all files of Credit Management tools.

I want to subscribe
Social networks
Find Credit Management tools on your favorite social networks
Blog
All news about collection and credit management

Go to the blog
Words of experts
Find the latest articles of collections and credit management specialists

Go to words of experts
User reviews

This site is really good, complete and suitable for beginners and experts!