My DSO Manager presentation


The recovery of outstanding receivables and the customers risk management are vital issues for companies, especially for SMEs, SMIs

However, most of these companies do not have an effective tool for performing high quality management of receivables, which is essential to optimize their cash flow.

Existing solutions do not meet the economic needs of these companies who have neither the time nor the financial resources to achieve an implementation project.

The venerable Excel remains the alternative tool to organize their work, share information and make dunning actions, while new technologies offer powerful and tailored functionalities.
Why SMEs which are the most vulnerable companies to cash flow problems due to late payments, would they not have access to a powerful software, easy to use and affordable?

Objectives of My DSO Manager are:
to bring to all businesses, whatever their size, efficient and innovative features of collection for the price of a telephone subscription.
promote the practices of good management of receivables through a tool to implement them.
drastically simplify implementation constraints and use of the software.
The DSO is the Days Sales Outstanding acronym. It is the key performance indicator for the management of accounts receivables and debt collection. It is the number of days of sales invoiced and not yet paid.

An efficient recovery of bills, an optimal resolution of disputes and a good control of its customers' payment default risk reduce DSO and improve cash flow and profitability of its business.
My DSO Manager
is the tool to manage his DSO, that is to say to control its evolution and to perform all the necessary actions to improve it.
Principles and features
Key Principles
| | |
| --- | --- |
| | Simple. The software is easy to access and to use. You can make your first dunning actions few minutes after registration. |
| | Efficient. The features of the tool can improve cash flow and profitability of its business while improving customer satisfaction through smooth communication and rapid dispute resolution. |
| | Innovative. Interactive e-mails, automatic recovery, settings of dynamic dunning templates with our #Hashtags, access to tablets and smartphones ... are innovative features that are simple and intuitive to use. |
| | Affordable. Offers of My DSO Manager are suitable for all sizes of companies, from the very small to the large account. |
Key features
My DSO Manager provides high performance and innovative features that you will take control independently.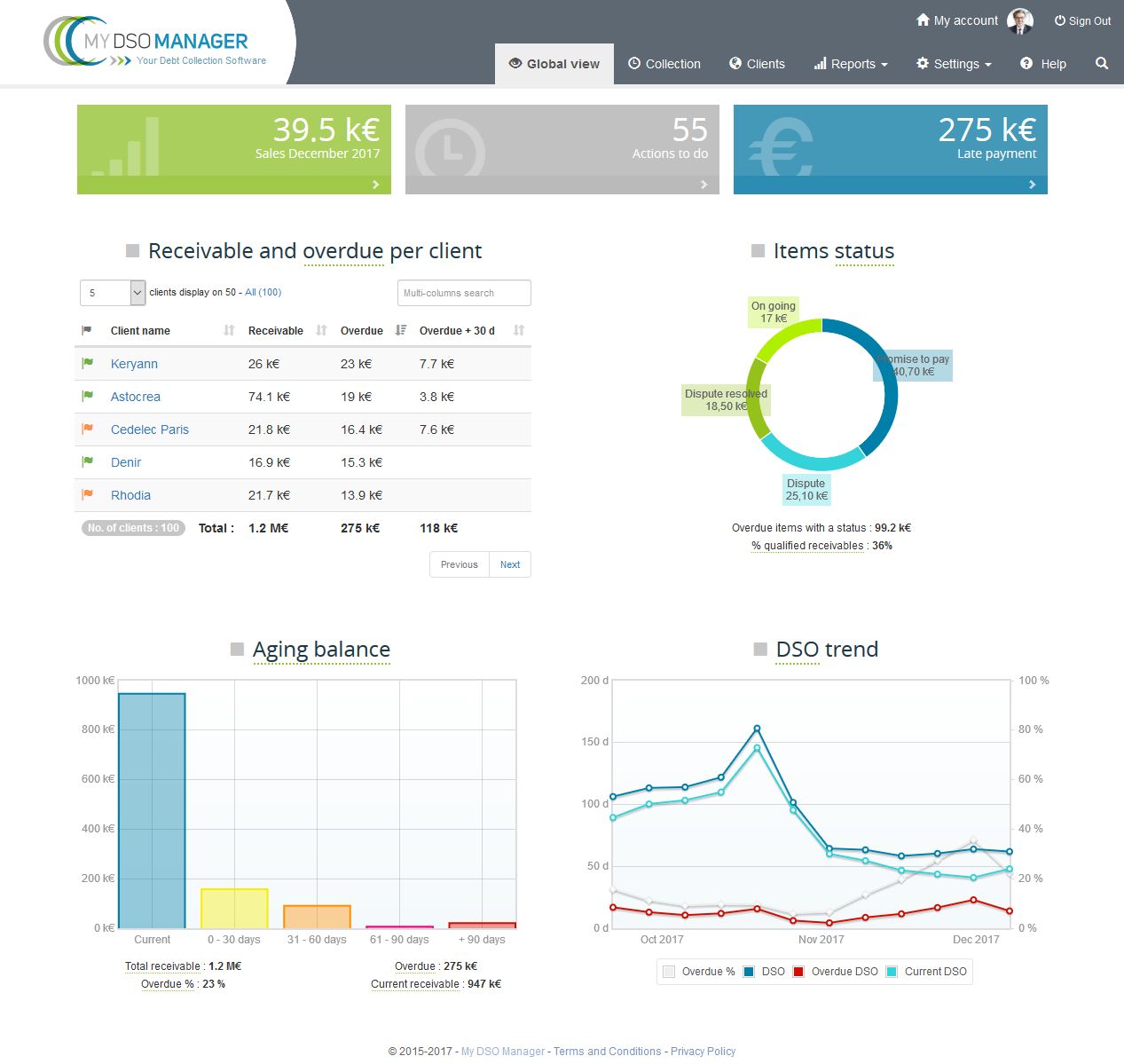 Debt collection
Create and assign to each of your customers a recovery scenario based on its typology (risky client, public ...).
Create your recovery models dynamically (e-mails and letters) while maintaining the ability to customize them in the completion of the action.
Automatically insert in your models through #Hashtags late payment penalties, statements of account, bank details of your business and many other information.
Add a comment and status to invoices after each customer feedback, to keep the history and to prepare the next action.
Set up automatic reminders that will be sent if the bills are not paid on time.
Identify disputes and drive their resolution urging the actors in your business who can solve them.
Manage the recovery by payment center and the customer risk by legal entity in case of multiple accounts for the same buyer.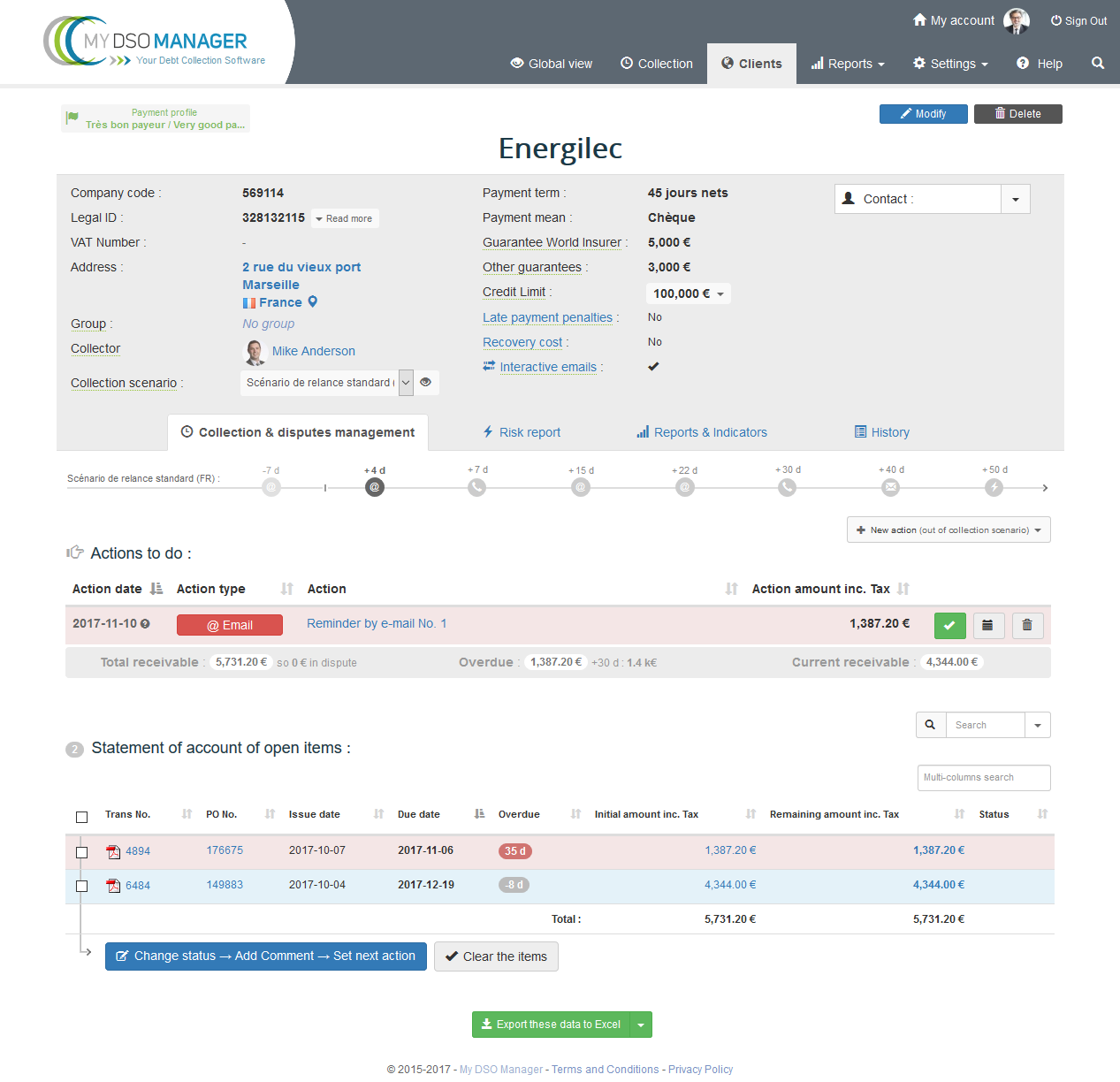 Performance Management
Get reports about the DSO, ageing balances , credit risk, dispute and sales for all of your customers, by customer group and per client.
Measure the actual payment behavior of your customers and their average delay in payment.
Give access to the software to the actors of your company including sales managers to get them involved in debt recovery.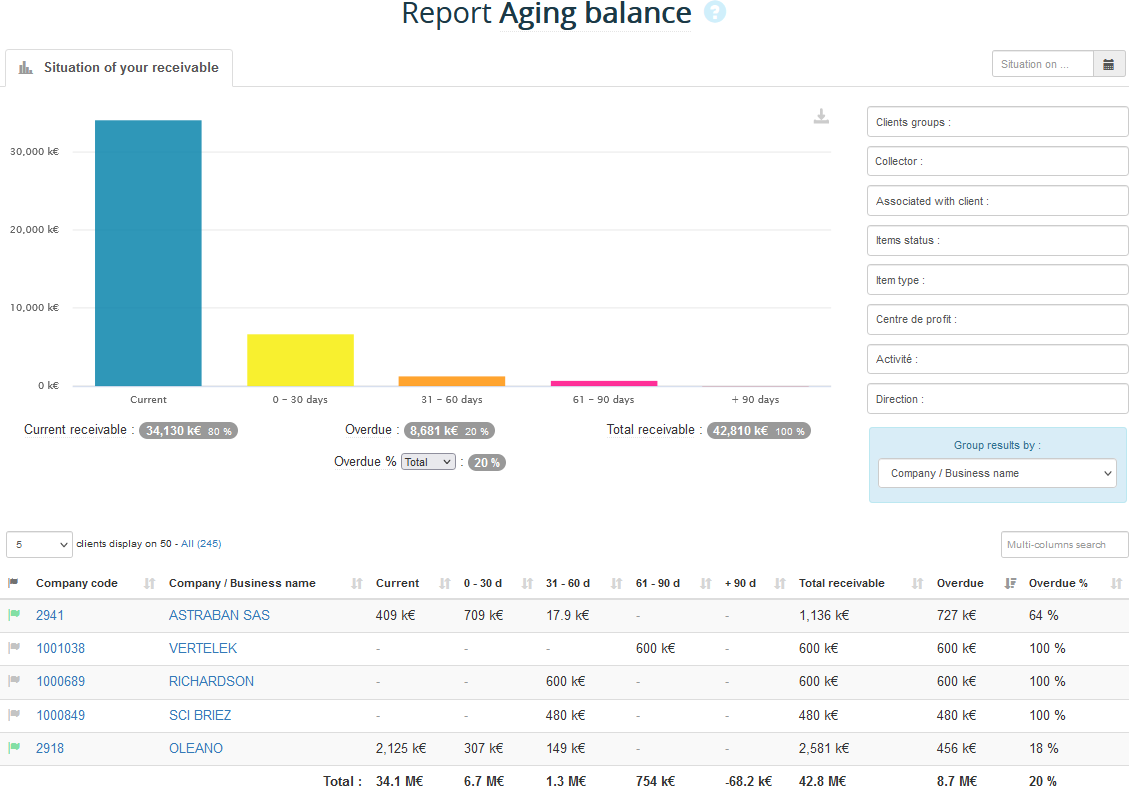 Risk management
Make a scoring your customers and set a credit limit for each of them with dedicated tools.
Integrate your credit limit validation process and have them validated in My DSO Manager.
Manage your risk with the Risk report and carry out credit analysis.
Create alerts to highlight customers in anomaly (exceeding credit limit or insurer guarantee ...)
Manage your credit insurance by controlling the reporting deadlines.
Manage multiple currencies whose rates are updated daily and automatically by the software.

You can now:
Articles on the same topic

Subscribe
Not yet registered? The subscription allows downloading and unlimited use of all files of Credit Management tools.
Words of experts
Find the latest articles of collections and credit management specialists
How crisis show how people and companies are?
The credit management facing a shock wave
The payment profile, a major advantage for an efficient management of your Accounts Receivable

Go to words of experts
User reviews

I like this particular website, not many of those type of websites around

Social networks
Find Credit Management tools on your favorite social networks