My DSO Manager is revolutionising the use of debt collection software, now available for all sizes of business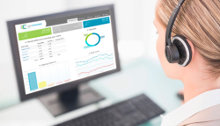 Excel is often a close friend of the cash collector. Probably too much! To be so close, you do end up seeing only the defects of your partner, even if it is a spreadsheet on your computer.
Indeed, even for an expert pivot tables and macros and other functions, Excel is very limited to manage his company's receivable.
However, it has a clear advantage: its ease of use.
The use of a debt recovery software looks interesting. What a luxury to use a software that has been designed to handle debt management and financial relationship with its customers!
But such a tool is often cumbersome to implement and expensive, so even if it is attractive, the idea is often delayed or rejected.
The revolution of My DSO Manager
If
My DSO Manager
is a web software of receivables collection which has innovative business functionality such as interactive e-mails, use of #Hashtag to create and customize the models of e-mails and letters, it is also a tool that replaces Excel due to its ease of use and implementation.

You can use
My DSO Manager
in minutes without long implementation project.
You can be autonomous in importing your data with our Smart Upload module that requires a setting to do only once and only takes a few moments.
The automatic import is set up very quickly with one of the following:
FTPs
API
implementation of our connector that connects to all databases

Once the import performed (manual or automatic), you can work directly in the tool taking in the standard configuration that you can customize at will.
Earnings are multiples and are obvious for each user from the first days:br />
time saving. The data is in the tool without the need to rework them continuously as in a spreadsheet
well-timed recovery actions through the recovery agenda and collection scenarios
dunning documents generated automatically and customizable for each sending
driving disputes resolution in real time
logging of every action and every interaction with customers
better customer risk management with the credit notation and the tool for calculating credit limits
real-time monitoring of performance indicators (overdue rate, DSO, aging analysis, disputes) per customer, customer groups and global
all information on a single platform, accessible to many actors (finance, commercial, executive, sales administration)
acceleration of collections, improve the credibility of its business and customer satisfaction.

The cost of the application makes it accessible to all businesses these advanced features.

Need help ? We support you in all phases of the implementation and use of My DSO Manager
Try now,
create your account
, and start using the software!
Need more informations?
Contact us