Property reserve clause
---
Description
Template of ownership retention clause. This contractual clause mentions that the property of the goods sold remains to the seller until invoices are fully paid by the buyer.
File preview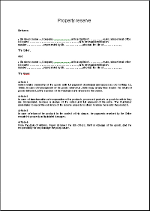 Details
Format : Word file


Language :

Price without subscription
12 USD Incl. Tax (12 USD excl. Tax)
The subscription allows to download all tools.
59 USD Incl. Tax (59 USD excl. Tax) *
* 59 USD Incl. Tax (59 USD excl. Tax) 6 months subscription
---
Please login to download the tool :
Subscribe