Suspension and termination clauses
---
Description
Suspension and termination clauses template to be included in contracts in order to be able to stop to deliver if the buyer doesn't pay the bills.
File preview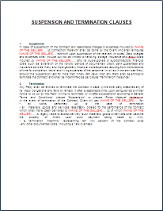 Details
Format : Word file


Language :

Price without subscription
12 USD Incl. Tax (12 USD excl. Tax)
The subscription allows to download all tools.
59 USD Incl. Tax (59 USD excl. Tax) *
* 59 USD Incl. Tax (59 USD excl. Tax) 6 months subscription
---
Please login to download the tool :
Subscribe