Contract letter of payment plan confirmation
---
Description
Template of a payment plan contract letter in french. Using this contract is key when you agree with your customer on a payment due to financial difficulties.

It allows to formalize customer commitment.
File preview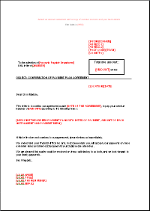 Details
Format : Word file


Language :

Price without subscription
12 USD Incl. Tax (12 USD excl. Tax)
The subscription allows to download all tools.
59 USD Incl. Tax (59 USD excl. Tax) *
* 59 USD Incl. Tax (59 USD excl. Tax) 6 months subscription
---
Please login to download the tool :
Subscribe