Cost of credit
---
Description
Calculate with this tools the cost of the credit granted to your customers, the breakeven point of your receivable (from what payment term your company makes losses) and the correspondence between unpaid and turnover (what turnover has been made for nothing because of an unpaid).

This tools also allows to calculate the average cost of financing of your company.
File preview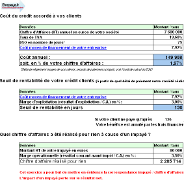 Details
Format : Excel file


Language :

Price without subscription
12 USD Incl. Tax (12 USD excl. Tax)
The subscription allows to download all tools.
59 USD Incl. Tax (59 USD excl. Tax) *
* 59 USD Incl. Tax (59 USD excl. Tax) 6 months subscription
---
Please login to download the tool :
Subscribe