Credit management policy
---
Description
Template of credit management procedure including all steps of the quote to cash process to cover with credit rules:
What to do before sending a quotation?
Risk assessment and mitigation
Internal Chart of Authority
Cash collection process and dispute management process
Litigation recovery
File preview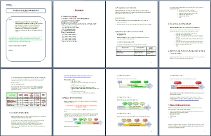 Details
Format : Word file


Language :

Price without subscription
15 USD Incl. Tax (15 USD excl. Tax)
The subscription allows to download all tools.
59 USD Incl. Tax (59 USD excl. Tax) *
* 59 USD Incl. Tax (59 USD excl. Tax) 6 months subscription
---
Please login to download the tool :
Subscribe