Credit notation
---
Description
Credit notation tool including 15 criteria to assess creditworthiness of your customers.
The tool is using three kind of criteria:
General information (company legal form, age of company, payment behavior...etc),
Profit and loss account information (sales, sales history, EBIT, net result),
Balance sheet information (equity, working capital, cash...etc.).
File preview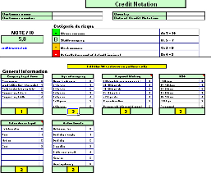 Details
Format : Excel file


Language :

Price without subscription
12 USD Incl. Tax (12 USD excl. Tax)
The subscription allows to download all tools.
59 USD Incl. Tax (59 USD excl. Tax) *
* 59 USD Incl. Tax (59 USD excl. Tax) 6 months subscription
---
Please login to download the tool :
Subscribe