Credit Notation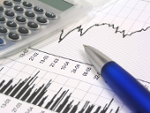 The business creditworthiness assessement tool presented here is used and improved in Credit Management services of many companies.
Simple and easy to use (a few minutes needed to perform an analysis), it is including all the main criteria to perform this analysis while producing useful advises in
credit risk
decisions you have to make with your customers.
This tool will give you for each client recommendations to avoid bad debts.
Credit Notation method
The credit notation is based on behavioral information, legal and financial informations:
Payment behavior,
Age of the company,
Legal form of the company,
Age of the business relationship and evolution of orders,
Evolution of the turnover,
EBIT and net income,
Financial structure with the level of equity in relation to total assets,
Indebtedness,

working capital

and cash ... etc.
A total of 15 criteria are used to build up this "credit score", each criteria has a defined weight in the final calculation. Four notes are possible:
A: Company solid,
B: Company stable,
C: Company fragile,
D: Company close to failure.
It is a clear and useful help in the customer risk analysis and the result has to be integrated into your business approach to request, if needed, down payments or payment guarantees.
The result of the credit notation is one of the elements used to calculate the credit limit granted to your customer.
Credit notation in My DSO Manager, the innovative credit management software

Easy to implement, including intuitive and powerful features,

My DSO Manager

allows to manage efficiently your accounts receivable.

It will help to improve significantly cash (get paid faster by your customers), profitability (with less bad debts) and customers satisfaction (with quicker disputes resolution).

My DSO Manager includes the credit notation to assess customers. The scoring tool can be easily customized according to criteria you want to use.

See more with our online demo

.

Use the simplified credit rating with clients who refuse to disclose their balance sheet and income statement, which is common in several countries.
In some countries (notably the Middle East) commercial culture is that these documents are confidential and are only internal management tools for managers.
In this case, the solvency assessment will be based on others criteria like compliance and payment behavior, which is of course reflected in the tool.
Online tools:
Articles on the same topic
Tools to download
Online tools
Not yet registered?