Discount rate calculation
---
Description
This tool allows to calculate several discount rates based on cost of funding of your business and on the commercial context:
Standard offer (rate below the average funding rate).
Cash offer (in case your company needs cash).
Risk offer (in case the customer is insolvent).
File preview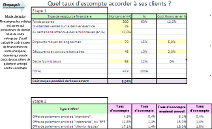 Details
Format : Excel file


Language :

Price without subscription
15 USD Incl. Tax (15 USD excl. Tax)
The subscription allows to download all tools.
59 USD Incl. Tax (59 USD excl. Tax) *
* 59 USD Incl. Tax (59 USD excl. Tax) 6 months subscription
---
Please login to download the tool :
Subscribe