Easy credit notation
---
Description
Credit ranking method to use when you don't have detailed profit and loss accounts and balance sheet of your client.
It is based on 8 criteria:
legal,
age of the company,
payment behavior,
financials,
business stakes...etc.
and produces a credit notation with recommendations for each category.
File preview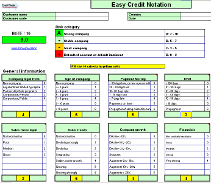 Details
Format : Excel file


Language :

Price without subscription
12 USD Incl. Tax (12 USD excl. Tax)
The subscription allows to download all tools.
59 USD Incl. Tax (59 USD excl. Tax) *
* 59 USD Incl. Tax (59 USD excl. Tax) 6 months subscription
---
Please login to download the tool :
Subscribe