Formal notice level 3 classical type
---
Description
Formal notice template level 3 in spanish which informs the debtor that without an immediate payment of invoices including delay penalties the seller will start a legal action against him.
File preview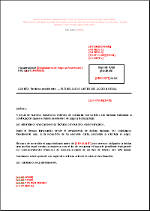 Details
Format : Word file


Language :

Price without subscription
7 USD Incl. Tax (7 USD excl. Tax)
The subscription allows to download all tools.
59 USD Incl. Tax (59 USD excl. Tax) *
* 59 USD Incl. Tax (59 USD excl. Tax) 6 months subscription
---
Please login to download the tool :
Subscribe