Late payment penalties calculation
---
Description
Easy tool to calculate penalties for late payment according to invoices amount, due date of each invoices and penalty interest rate.

This xls tools allows to calculate the amount of late payment penalties in few seconds.

It is possible to do the calcul with invoices not yet paid or with invoices already paid.

It is also possible to include a fix fee per overdue invoice.
File preview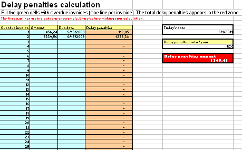 Details
Format : Excel file


Language :

---
Please login to download the tool :
Subscribe