Overdue ratio calculation
---
Description
Reporting and performance follow up tool about the percentage of overdue invoices, that is one of the key performance indicator in Credit Management.
File preview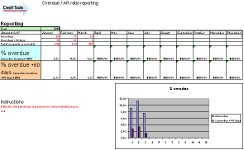 Details
Format : Excel file


Language :

Price without subscription
12 USD Incl. Tax (12 USD excl. Tax)
The subscription allows to download all tools.
59 USD Incl. Tax (59 USD excl. Tax) *
* 59 USD Incl. Tax (59 USD excl. Tax) 6 months subscription
---
Please login to download the tool :
Subscribe