Parent company guarantee
---
Description
Template of Parent company guarantee in french to be used when a seller wants the official commitment of the mother company of its customer to pay the bills.
File preview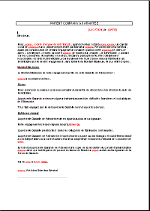 Details
Format : Word file


Language :

Price without subscription
12 USD Incl. Tax (12 USD excl. Tax)
The subscription allows to download all tools.
59 USD Incl. Tax (59 USD excl. Tax) *
* 59 USD Incl. Tax (59 USD excl. Tax) 6 months subscription
---
Please login to download the tool :
Subscribe