How to get paid July and August due invoices before the summer period. What are the methods to avoid payment delays during this fateful period for corporate cash flow?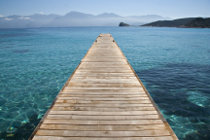 Many companies in many countries close their doors during the month of August where it is the summer period. During that time, it is often very complicated to get its invoices paid.
Some take advantage and shift their payments due in July and August to September ... if all goes well.
Indeed, many companies in difficulty go bankrupt in September after the pivotal period of summer, one of the most sinistrogenic period of the year.
It is easy for these companies to find arguments for not paying you:
officer or accountant on leave,
themselves are not paid by their customers so they ask you to wait,
no response to your requests easily justifiable due to the period of leave ... etc.

Faced with these situations which are unacceptable (they can easily make you lose 1 to 2 months of cash or generate bad debts), you have strong arguments that you must use before this fateful period.
Anticipation and customer communication are key to keep cash flow afloat
the due date of your invoices is a contractual data that your client must respect. Tell him clearly,
in the event of late payments, your customer will owe you late penalties and a fixed compensation of recovery costs,
your client is closed in August and will not be able to make a bank transfer or a check? No problem, ask him to schedule a transfer for the due date now or to return a bill of exchange. His bank account will be debited automatically on the due date of your invoice.
To get paid and not be part of suppliers who will be paid late, a rule is required:
anticipate
and chase up your customers in advance to define with them how these invoices will be paid, and be demanding with them so that they respect their
commitments
, summer holidays or not.

The methodology is simple, contact your customers to check with them that everything is OK for the payment of bills (any dispute or missing document?, ...). Then ask them how they will pay their bills on their due dates without forgetting to suggest the appropriate solution for any reason announcing late payment.
Read our tutorial about
pre-dunning collection
.