This kind of contract can limit or even cancel the risk of bad debts in case your client is not creditworthy, but his own client is fully reliable.
You are paid directly by the client of your client. This is a three parties contract.
A contract with the supplier (the delegatee), the
buyer
(the delegator) and the client of the buyer (the delagate) is drawn in which the delegate agrees to pay the delegatee directly, although the supplier bills the delegator.
There are two kinds of delegation of payment:
Partial delegation of payment: This contract defined the end customer as the payer of the individual case but the buyer remains the legal debtor. In case of failure of the buyer, you cannot require the payment to the end customer.

This kind of contract does not give you an absolute guarantee of being paid by the end customer (payment of your bills must also be pre-approved by your client).
The full delegation of payment: This contract legally substitutes your client (the delegator) by the end customer (the delegate) who becomes the sole debtor. The end customer assumes all the risks and can not escape its commitment to pay you even if your client is bankruptcy proceedings. The establishment of this type of contract is very interesting because it protects you against any risk of default on the part of your buyer. It can be difficult to convince the end customer to accept it.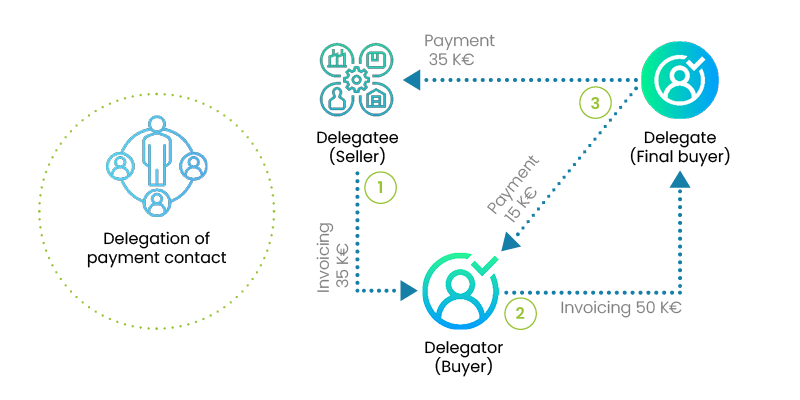 It is possible that your client refuses to establish a delegation of payment. This denial is usually motivated by one of these two reasons:
by sending your invoices to its client he reveals its margin,
he can be discredited if he requests the establishment of a delegation of payment to his own client.
Direct payment
Similar to the delegation of payment with the difference that the final customer is a public company. Risk of bad debt is null.
The account receivables assignment
Contrary to the delegation of payment, the contract of assignment of receivables concerns only the owner and the assignor. The end customer (the payer) does not appear in the contract.
Definitions:
Owner: is the one who performs the service for the end customer (on which he has a debt)
Assignor: the subcontractor to whom the debt is transferred from the owner. If the final buyer doesn't pay, the owner must pay.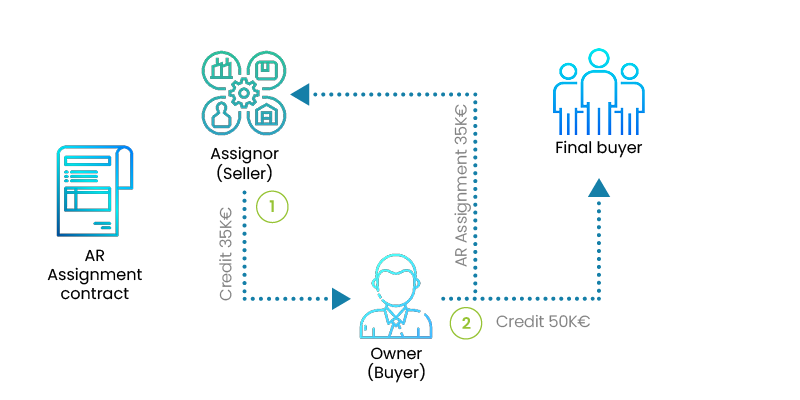 The account receivables assignment
is particularly suitable if the payer is a government and if the owner (your customer) is not creditworthy.
You become the owner of receivables that your client owns on its client. In fact you are not concerned anymore with the possible
insolvency
of your customer.
In case of insolvency proceedings of your client, the administrator or liquidator can not claim this money as by this contract it is not anymore in your client's assets.