Set up the payment term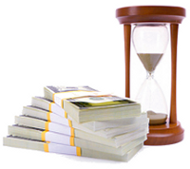 Payment terms have a direct effect on your business cash flow and on the risk to get unpaid invoices and bad debts.
Longer they are, more the need in
working capital
to finance the receivables gets heavier, and more the risk to be impacted by a customer default is high.
It is often much more profitable to negotiate shorter payment terms and to offer a discount to your customer in order to compensate the earlier payment request.
This negotiation should be integrated into the global trade negotiation.

Keep in mind that the credit given to your client is not compensated by an interest rate. As long as they are not paid, your bills' value goes down because of inflation. The credit given to customers is therefore:
A risk. You are not sure to be paid,
A cost due to inflation and capital employed,
A consumption of your company's financial resources that would be probably better used elsewhere (investment, business development ... etc.).

Associate with the negotiated condition of payment the adapted payment method to reduce the risk of late payment.
My DSO Manager, the most inovative credit management software

My DSO Manager offers powerful features to assess customers creditworthyness and to perform collection actions at the right time.

Dunning actions are triggered depending on the recovery scenario of each customer and the situation of the account (overdue invoices, disputes, ...).

Recovery documents are dynamically generated through #Hashtag and are customizable for each customer for optimum efficiency.

The software used by 750 companies accross 80 countries can be used very quickly by SMEs as well as big international groups. See more with the online demo.
Payment terms
| | |
| --- | --- |
| Payment term | Average length of credit in days |
| 10 days net | 10 |
| End of month the 10th | 25 |
| 30 days net | 30 |
| End of month the 25th | 40 |
| 30 days end of month | 45 |
| 30 days end of month the 10th | 55 |
| 30 days end of month the 15th | 60 |
| 45 days end of month | 60 |
| 60 days net | 60 |
| 30 days end of month the 25th | 70 |
| 60days end of month | 75 |
| 60 days end of month the 10th | 85 |
| 90 days net | 90 |
| 60 days end of month the 25th | 100 |
| 90 days end of month | 105 |
| 90 days end of month the 10th | 115 |
| 120 days net | 120 |

Be sure to correctly understand the terms of payment: 30 days end of month 25 is a longer period than 60 days net.

Use the shorter payment term but also the best suited to the orders timing:
For example, if your customer orders are frequent (several times in a month), you should preferably use 30 days end of month the 15th rather than 60 days net. Both payment terms grant the same credit days in average. In the first case, your client will have a single payment to do each month (the 15th of each month) while in the second case, there will be as many due dates as dates of invoices. The consequence will be systematically to have late invoices.
Payment means
| | | | | | | | | |
| --- | --- | --- | --- | --- | --- | --- | --- | --- |
| | Check | Bank transfer | Bill of exchange | Promissory note | Electronic bill of exchange | Bill of exchange without acceptance | Irrevocable bank transfer | Credit card |
| Default risk | Medium | No | High | High | High | High | No | No |
| Mail dependence | High | No | Very high | High | No | Low | No | No |
| Risk of delays | High | Medium | Low | Low | No | No | No | No |
| Bank fees | No | Yes | No | No | No | No | Yes | Yes |
| Suitable for bad payers | No | Yes | Yes | Yes | Yes | Yes | No | Yes |
| Discountable | No | No | Yes | Yes | Yes | Yes | No | No |
The check
this payment method has many disadvantages for small advantages. It depends on the postal delay, it is worded and signed by hand. A customer wishing to gain a few weeks of cash will abuse you with wrong reasons to justify delays of payment:
the check was supposedly sent but has not arrived. Your client asks you a letter of withdrawal before he issues a new check,
the check was sent to a wrong address,
the check is received unsigned. You must send it back to your customer for signature and then he will send it back to you again ... etc.

The only advantage of the check is to provide a recourse through a bailiff if it is returned unpaid for lack of provisions (that depends on the country).
The check is a payment method to avoid especially with bad payers!
The bank transfer
Fast, reliable, efficient, bank transfer is a safe payment method. In addition, it cannot be returned once it is on your bank account (no return unpaid possible). Its only disadvantage is that it cannot be anticipated with a payment done a later due date.
The bill of exchange
The bill of exchange is issued by the supplier and has the advantage to be an unconditional order in writing to pay at fixed date a certain amount of money. You can receive the bill before the due date (eg 30 days), you cash it in your bank account and your client will be automatically debited to date.
This possibility limits the disadvantages of paper and the dependence of mail. Such as the check a bill of exchange may come back unpaid several weeks after the due date unless it is endorsed by the bank of your client.
Variant of the bill of exchange, bills of exchange without acceptance consists for the suppliers to deliver directly to the bank (without signature of the

buyer

) the bill of exchange. The buyer can then accept or refuse collection.
The promissory note
It has the same features as the bill of exchange except that it is issued by the buyer and not by the supplier.
The electronic bill of exchange
This payment mean is a way to computerize the bills of exchange. The supplier (the drawer) sends an electronic file to the bank. Then there is an exchange between the supplier's and the buyer's (drawee) banks and the buyer accept or reject the bill of exchange.
This payment method has the advantages of the bill of exchange without the disadvantages. It requires to be implemented a strong partnership between supplier and buyer as the buyer is losing its autonomy in the management of its payments to his supplier.
The irrevocable bank transfer
The irrevocable bank transfer is an automated bank transfer set for a future date. It is issued by the debtor (buyer). Unlike traditional bank transfer which is a cash transaction, the irrevocable bank transfer provides a settlement at a future date which has several advantages:
you are informed in advance of the payment of your bills,
you are guaranteed to be paid. No unpaid possible,
you can discount the irrevocable bank transfer in order to get cash immediately .
Credit card
This payment method rarely used by professionals is gradually becoming more democratic, but rather for small structures. In some countries such as the United States, its use is much wider so it is possible that this trend will strengthen in Europe and other regions in the future, especially as online payment solutions are integrated into software such as
My DSO Manager
which greatly facilitate their usage.
Online tools:
Tools download:
Last comments
Comments are displayed in chronological order and have been reviewed by the editor before publication.
P.F.
Very interesting indeed but one thing is not precised. It refers to 45 days eom. I hear about 2 interpretations: one says 45 days then end of month; the other says 45 days from the end of the month. For an invoice dated jan 20, in first case payment shall take place latest end march; the 2nd interpretation says payment on the 15th of march. What is your opinion? Any official rule to refer to? Depending on specific country? Best regards
Editor's answer :
You are right, both calculations are good. In France, the law says that both are usable. Seller and buyer ahve to agree on the prefered method.
Best Regards, Bertrand
Articles on the same topic
tools to download
Online tools
Subscribe
Not yet registered? The subscription allows downloading and unlimited use of all files of Credit Management tools.
Blog
All news about collection and credit management
New tutorial: Credit management for an ecological transition
Risk management or cash collection?
What are the keys of cash collection?

Go to the blog
Words of experts
Find the latest articles of collections and credit management specialists
How crisis show how people and companies are?
The credit management facing a shock wave
The payment profile, a major advantage for an efficient management of your Accounts Receivable

Go to words of experts
Social networks
Find Credit Management tools on your favorite social networks