Reporting in My DSO Manager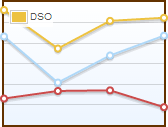 My DSO Manager
offers several reports on all aspects of the management of customer receivables and collections. They are available on 3 levels:
on all receivables
for a customer group
by client or legal entity if multiple accounts are linked to the same company

It is possible to view all the reports by collector or by internal actor (commercial, sales assistant ...).

For the customized versions analytical fields are configurable (consult us).

Most of the reports can be displayed at an earlier date to track and anticipate trends.

All data can be exported in Excel with a simple click.
Aging Balance
Must have report for the management of debt collection, the
Aging balance
in
My DSO Manager
is displayed with dynamic graph and a table with customer where it is possible to sort by many criteria, including the brackets of delay (overdue 1 - 30 days...).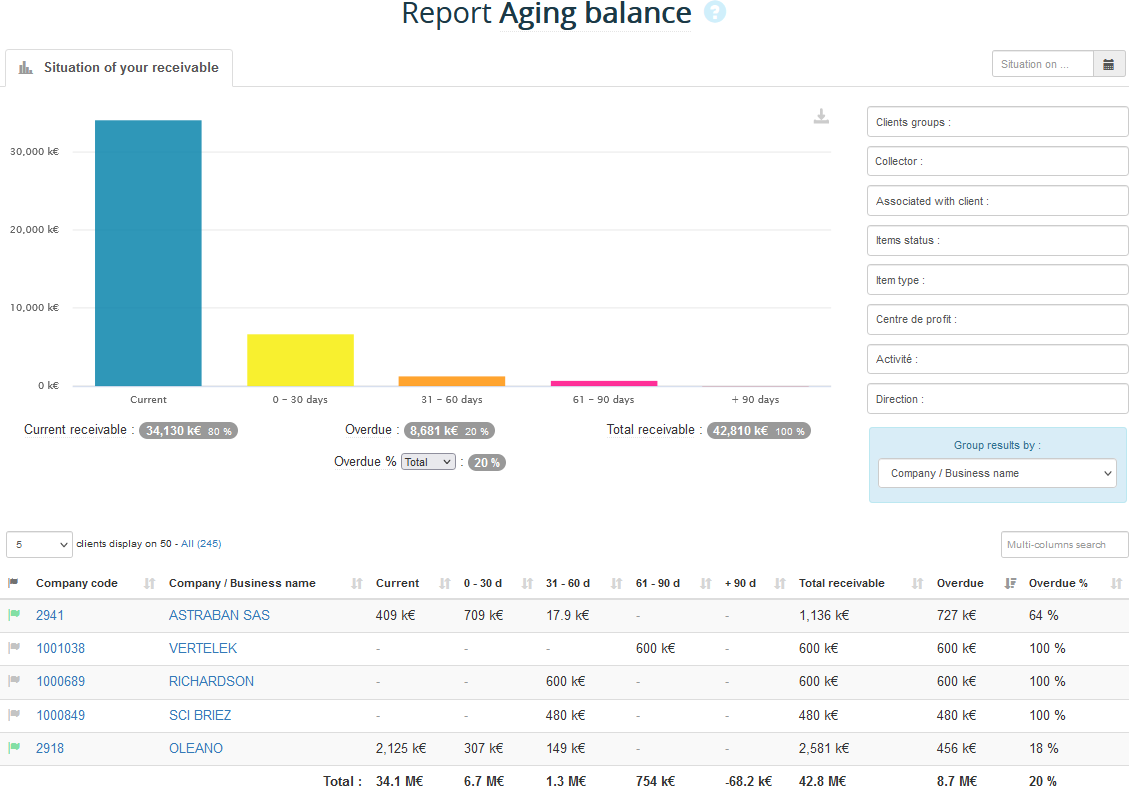 Just a few clicks to see the most significant overdues, the largest outstanding or major overdues of more than 90 days. This helps prioritize recovery actions on larger issues.

It is also an essential tool for the management of the recovery performance of collectors and evaluation of the quality of receivables. Indeed, a balance with old aged receivables results in a deterioration of cash and a lower net result of the company (older is the debt, lower is the probability of recovery). .
Disputes
The
Disputes report
identifies the main causes and the amount of receivables pending payment for
disputes
reasons. It also gives the breakdown by customer (in number and amount), as well as by type of dispute, in order to understand which customers or sectors of the company are affected by these malfunctions.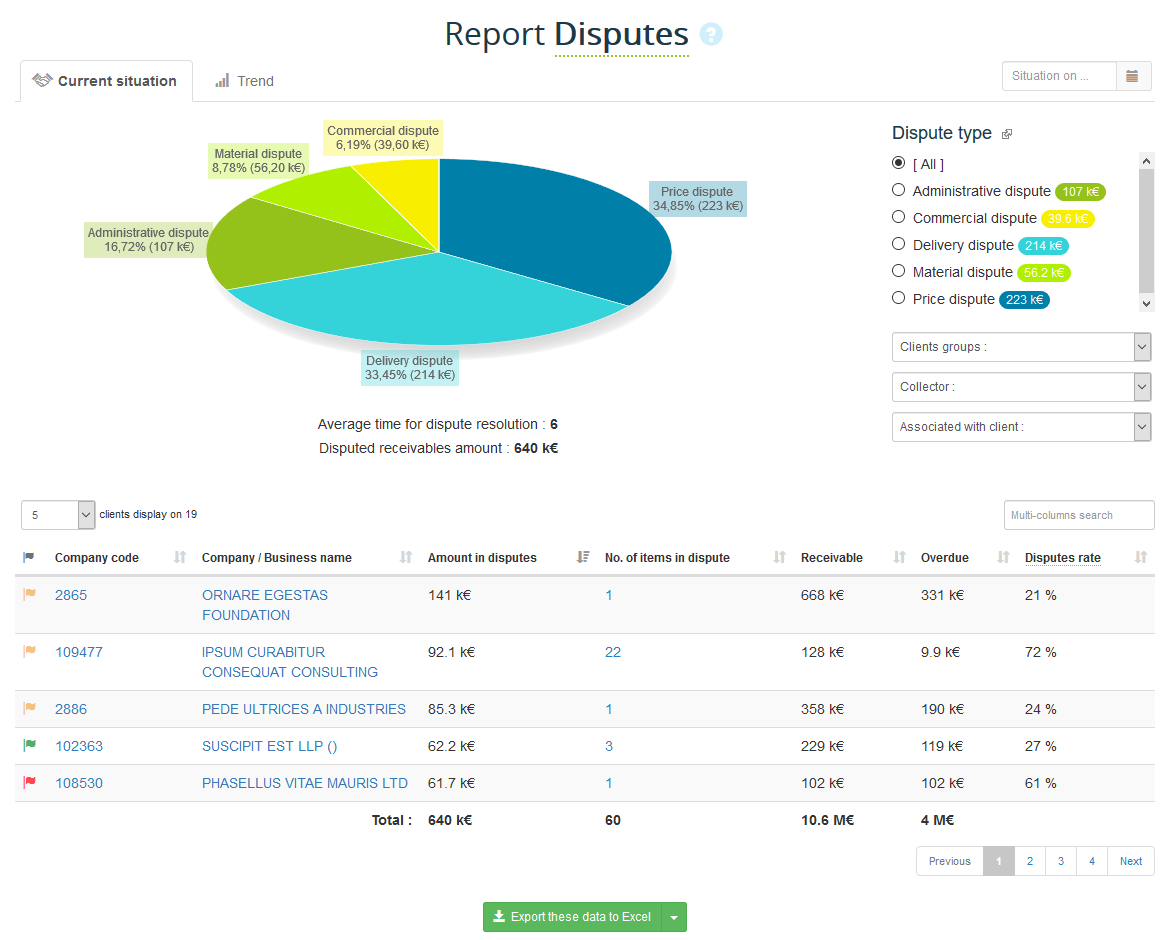 My DSO Manager
also calculates the average time to resolve a dispute by typology (administrative disputes, quality, price ...), and highlights the areas of the company where disputes are handled carelessly.
DSO
Get the
DSO
of your company splitted in
current DSO
and
overdue DSO
.
Key performance indicator of the receivables management, DSO monitoring is a major asset for cash flow optimization.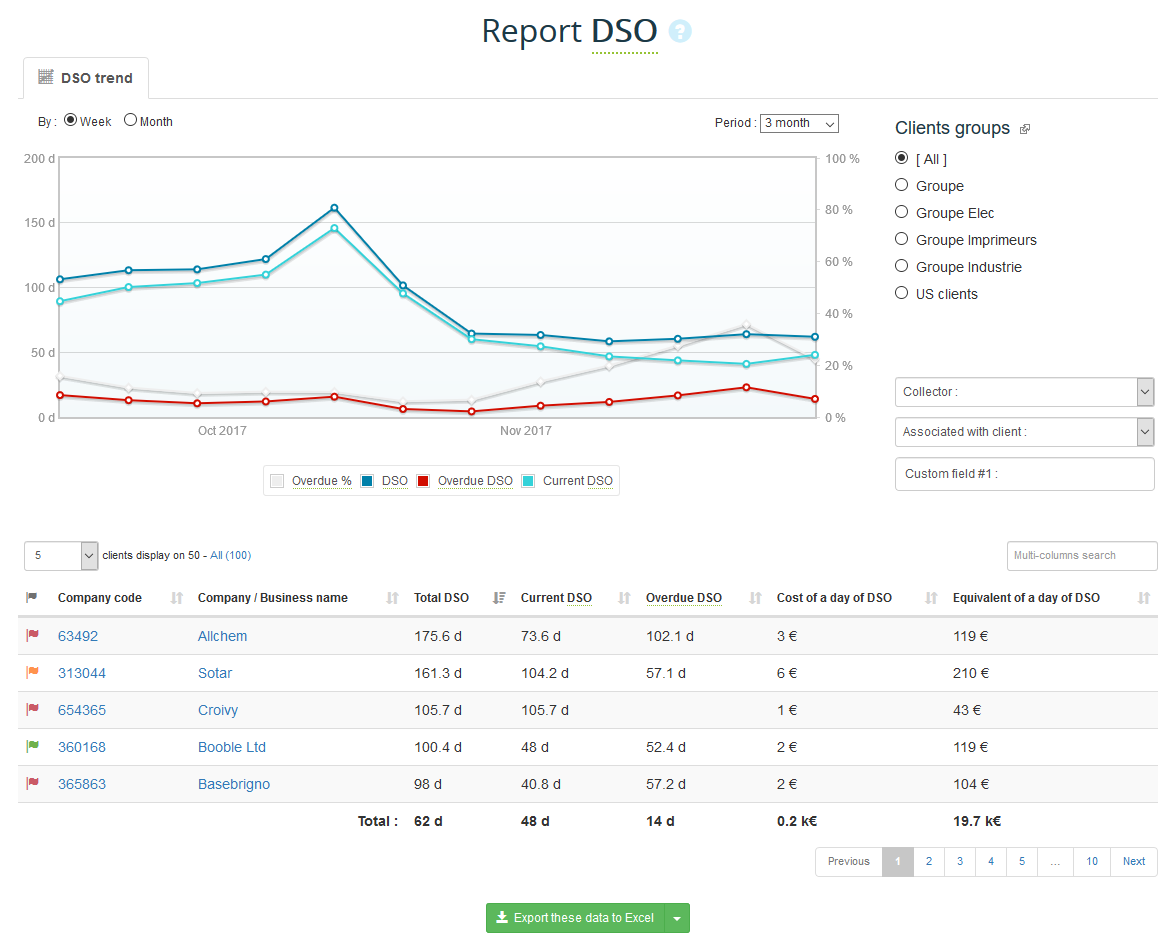 The DSO report in
My DSO Manager
also include the
Overdue %
, antoher key indicator of debt collection, which shows the share of receivables due in the total outstanding amount. It can be set if you want to use as an indicator the delay rate of more than 30 days, 60 days or 90 days ...

This report makes it possible to quickly identify the customers or customer groups to focus on to improve these key indicators of business management.

The
annual cost of a DSO day
can be calculated per customer, based on your company's internal interest rate set in your account preferences.
Items Status
In My DSO Manager it is recommended to qualify unpaid invoices using the corresponding statuses (unlimited number and fully customizable), which ensures that all outstanding receivables are followed.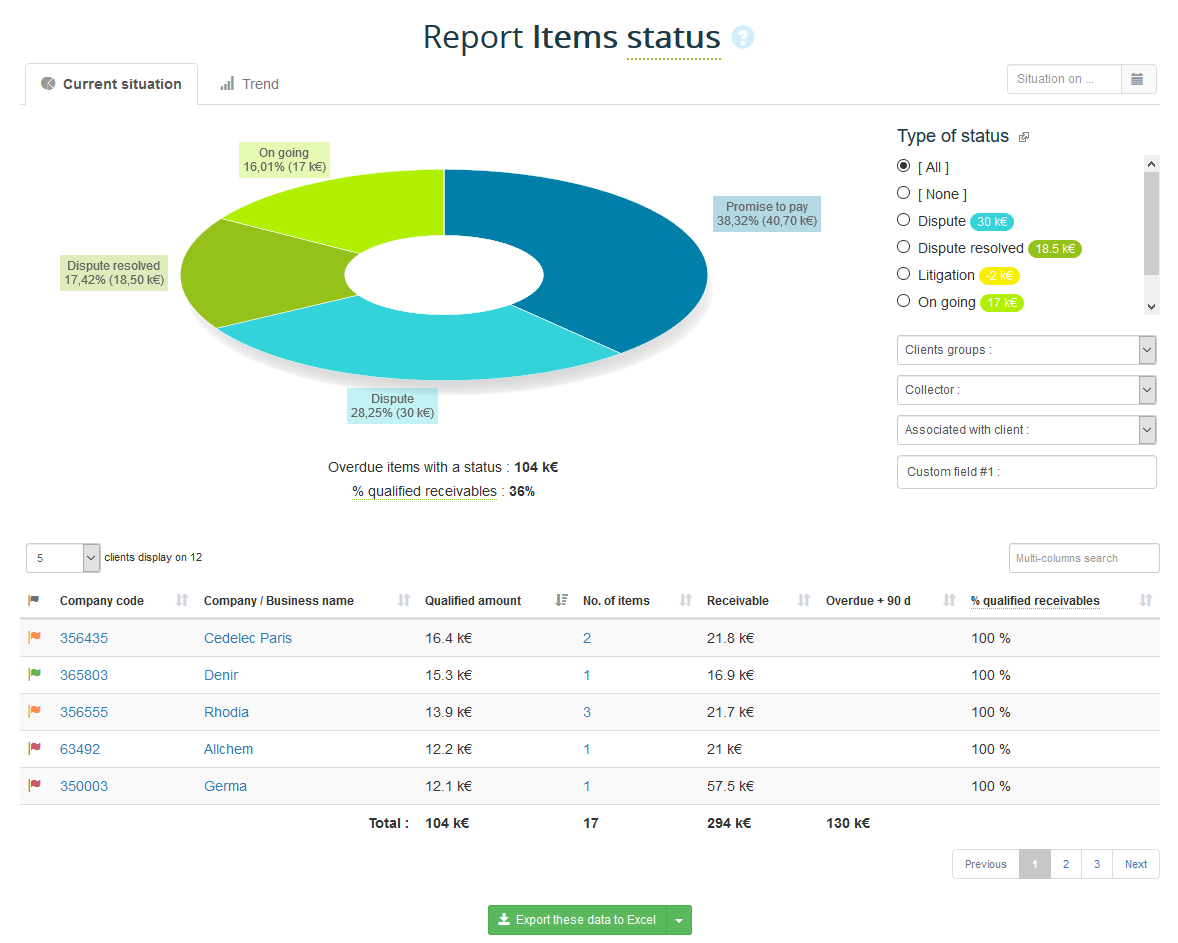 It is also possible to visualize the evolution of these statuses, making it possible to identify the recurrent causes of delays and thus work on improvement axes.
Risk
This report makes it possible to control the outstanding customers amount in relation to their credit limit and the payment guarantees obtained (credit insurance guarantees, bank guarantees,...).
It also highlights available outstandings and customers who are over the credit limit for good reasons (growth in sales) or bad (unpaid invoices).


This report also enable you to follow the credit limits and their
validation
Cash forecast
In My DSO Manager the cash forecast calculation is based on:
the collection work done (items qualifications)
your customers payment behavior constated in My DSO Manager
your company performance in dispute management
the

exclusion

of the items qualified in "litigations"
Overdue trend
It measures the debt recovery performance, highlighting the causes of deterioration and improvement.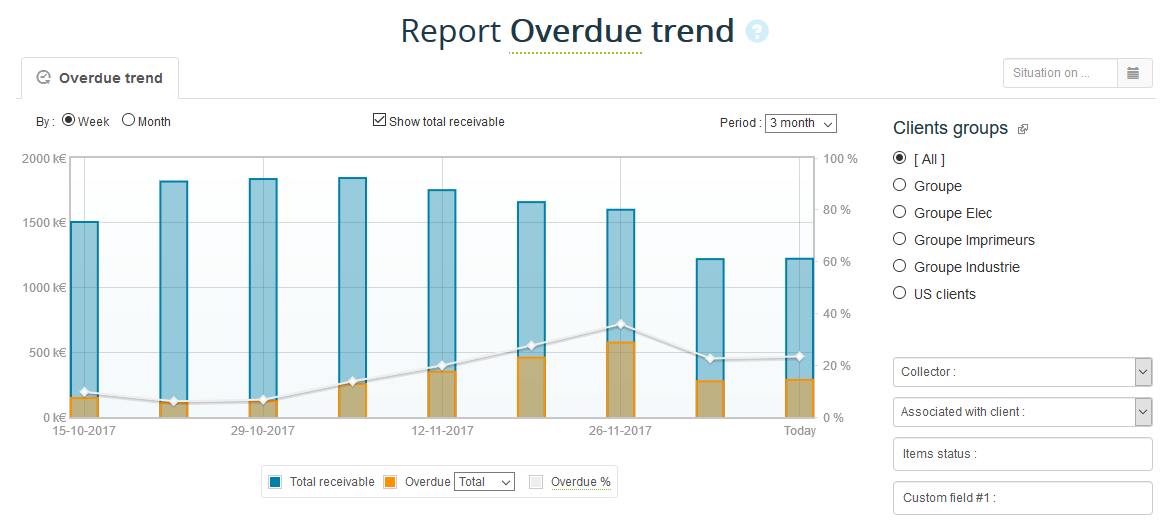 And many others...
My DSO Manager also propose:
A Cash receipts report which allows you to visualize the receipts of your customers on different perimeters
In order to follow the global activity, in groups or by customers of your company My DSO Manager integrates a Sales report
You also have the opportunity with Payment schedule report the to view the distribution of your receivables plus outstanding items in different brackets according to their due date...

All the reports are available in each customer file, in the "Reports and indicators" tab:
Articles on the same topic
Subscribe
Not yet registered? The subscription allows downloading and unlimited use of all files of Credit Management tools.
Blog
All news about collection and credit management
New tutorial: Credit management for an ecological transition
Risk management or cash collection?
What are the keys of cash collection?

Go to the blog
Words of experts
Find the latest articles of collections and credit management specialists
How crisis show how people and companies are?
The credit management facing a shock wave
The payment profile, a major advantage for an efficient management of your Accounts Receivable

Go to words of experts
Social networks
Find Credit Management tools on your favorite social networks