Altman Z score calculator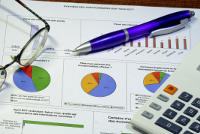 The Z-score is a company scoring tool establishing a probability of failure over two years.
It was created by the American Edward Altman in the 60s and has since been improved.
It uses statistical techniques to predict the probability of business failure using eight criteria from the financial statements of a company.
It is necessary to bring the latest financial statements of the analyzed company to calculate it.
Know more
Data
Z score interpretation
The higher the score, more the probability of failure is low. A score above 2.9 is very good (2.6 for non-manufacturing).
A score below 1.23 (1.1 for non-manufacturing) indicates a very high probability of failure.
Scores between the two above limits represent a gray area for medium-sized companies where the risk is present but not very strong.