DSO calculation and reporting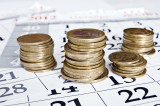 Why calculate the DSO?
This is a key indicator of receivables performance management. It represents the number of days of sales stuck in the accounts receivable.
Improving DSO (acronym of Days Sales Outstanding) has a direct effect on cash flow of a business.
The main drivers for improvement are :
Learn more
Scope
Set up
DSO calculation scopes
:
On the total accounts receivable of your company.
On a specific business or group of customers.
On a single customer.
Month selection


Sales data including taxes