Collection level 1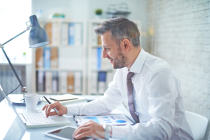 The collection level 1 occurs when the due date of the invoice is passed without the
buyer
having paid the seller the amount due despite a first pre-dunning action.
This stage of the
recovery process
concerns short overdue invoices. The client did not honor his promise of payment obtained during the first reminder and the invoices remain for the moment unpaid whereas they are due.
The first step is to understand what is the reason for nonpayment and to dissociate the minor reasons:
check sent but lost by post mail or arrived unsigned,
client forgot to make the payment,
accountant or director out of office,
bank transfer made with wrong bank details,
payment made by mistake to another supplier ... etc.
which will be resolved quickly and more serious reasons that are due to a dispute on an invoice, financial fragility of your client and / or his unwillingness to pay you.
A collection action made by phone or by email is key at this stage, if needed a letter with acknowledgment of receipt is promptly sent in order to request an immediate payment.

The objective of this new recovery action is to get a new promise to pay in writing if the settlement is made in a few days.
Collection level 1
The dunning actions start on or just after the due date of the invoice, with the aim of understanding the cause of late payment and to bring the customer to settle the overdue immediately or in a very short time according to the problem.


The effectiveness of your
recovery process
depends on a judicious combination of phone calls and
dunning letters
sent by e-mail or postmail which can be sent with acknowledgment of receipt.

Objection often heard from the sales manager: "do not send dunning letters" or "do not call the client about overdue invoices because it will hurt our business relationship."
This is not true!
Request clients to respect their
commitments
does not affect the business relationship.
On the contrary, excessive tolerance in cash collection quickly brings to an intolerable situation (increasing overdues which affect the cash flow of your business) which finally impact negatively the relationship with your customer. You may lose your customers if you don't manage properly your Accounts Receivable!
Collect invoices with administrations and large companies
One of the key factor of the success of your recovery actions is to find the right person in the company to validate the payment. This is not always so easy. Indeed, if the accounting manager or the Chief Financial Officer are easily identifiable as interlocutors in small and medium companies, this search can become more complex with larger-sized companies.
A major problem of cash collection with large companies and administrations is to understand their organization and find someone who can unlock the payment. It is therefore necessary to investigate in order to understand the validation process of invoices and act where the blockage is, otherwise reminders will have no effect.

This principle is even more true as large companies and administrations are streamlining their accounting services with more automated tasks. This works quite well as long as there is no problem. However, disputes and exceptions management is often poor, which implies specific recovery actions by the seller.
Tips for delaying the payment of an invoice
At this stage of recovery, many delays are due to a wish on the part of the customer to gain a few days / weeks of cash thanks to the Accounts Payable (disputes and other administrative problems represent an even greater part of overdue root causes).
Indeed, many of them think that it will not hurt their company as it is easy to mention a ready made excuse. Here are the most common ones:
| | |
| --- | --- |
| Customers' tips | Answer to bring |
| We did not receive the invoice. Thank you for sending us a duplicate certificate. | Send a duplicate certificate immediately by e-mail. If necessary, send it also by postmail. Once done call immediately the customer for immediate payment confirmation. |
| The check left two weeks ago. Can you do research? | After a quick verification of the absence of receipt of the check, send a letter of withdrawal and request an immediate payment by bank transfer (wire transfers are not lost in postmail!) |
| Our client did not settle us so we can not pay you yet. | This reason is not acceptable, you are not concerned by the vicissitudes of your client's business relationship with its own clients. Ask your client to respect his commitments (pay your bill) as part of the relationship established between him and your business only. |
| The person authorized to sign checks and wire transfers is out of office. | Remind as soon as the signatory returns and require the next installments to change the means of payment to receive the confirmation before due date, which will prevent late payments. |
| We do not agree with the calculation of the due date | Agree with the client on the use of a single calculation method to avoid disputes in the future. Obtain a written confirmation. |
| Invoice content or billing address errors. | Immediately redo the invoice with an immediate due date (the same day), send it by e-mail and ask for immediate payment confirmation. |
| We have not registered the material, thank you to send us the delivery note. | Send the delivery slip immediately by email and demand an immediate settlement. |
| Our payment campaign is on Thursday, but it's Friday. Contact us next week. | Ask for a payment confirmation for next Thursday. Remind your customer that the contractual payment date of your bills means the credit date on your bank account. If the payments are made only once a week, it must be done the day before the due date of your bills. |
| We have cash flow problems and need your support. | If these difficulties are proven, you can negotiate a payment plan. However, it must be as short as possible with an immediate partial payment and must absolutely be contractualized or at least confirmed in writing |
Articles on the same topic
Tools to download
Not yet registered?
Sign up now to enjoy the download and unlimited use of all tools of Credit tools.